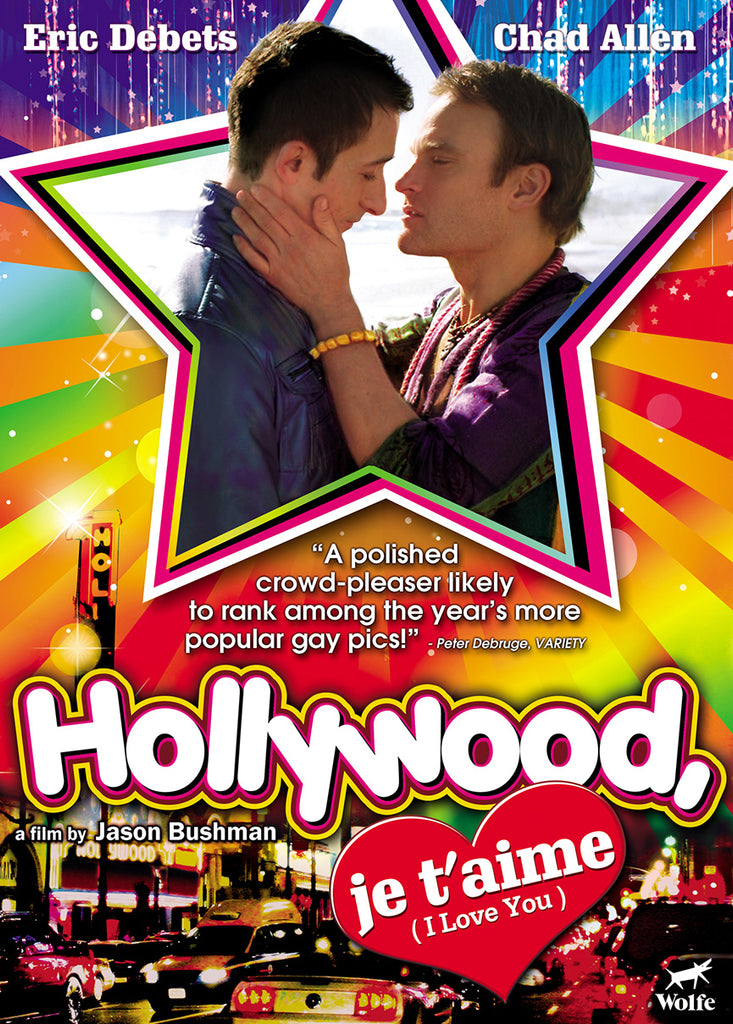 ---
Wolfe Video only ships to the United States.
"Delightfully funny, hugely entertaining and unlike anything you've ever seen!" – Frameline, San Francisco Film Fest
After a breakup, gay Parisian Jerome impulsively books a solo Christmas vacation to Los Angeles. Like many before him, he plans to pursue his secret dream to become a movie star – and, of course, to find love along with fame and fortune!
Completely naïve about what he is getting into, Jerome hooks up with some colorful locals, and stumbles headlong into an acting role. Nothing about Hollywood quite matches Jerome's fantasies, however, and his misadventures are both hilarious and touching.
Bright, funny, honest and utterly charming, Hollywood, je t'aime is a stunning debut for director Jason Bushman. Eric Debets shines as Jerome; his classic look and an amusing ease with his own awkwardness are evocative of Buster Keaton and Marcel Marceau. Cast includes Eric Debets, Jonathan Blanc, Diarra Kilpatrick, Michael Airington and the fabulous Chad Allen (Save Me, Third Man Out, Shock to the System).
Director's Commentary Closed captioned Trailer Deleted scenes
"Polished crowd-pleaser likely to rank among the year's more popular gay pics." – Variety
"The same tasty spirit as Woody Allen's many homages to Manhattan. . . Lead actor Debets has an appealing deadpan presence."   – The Hollywood Reporter
"HOLLYWOOD, JE T'AIME is delightfully funny, hugely entertaining and unlike anything you've ever seen!" – Frameline, SF Film Festival
"Will make you fall in love with LA all over again." – OUTFEST, LA Film Festival
"Eric Debets plays angst really well and Michael Airington portrays drag queen Norma's empty-nest syndrome beautifully." – LA Splash.com
"The tale of a Frenchman befriended by a handful of social outcasts while looking for Hollywood stardom, Hollywood je t'aime turned out to be a quirky, funny, touching revelation." – Alternative Film Guide
"Delightful . . . Magnifique from start to finish!" – New York Q News
"Jason Bushman's film is a good example of how Hollywood might do gay romantic comedies." – Santa Monica Mirror
"This one is a major must-see." – S.F. Examiner.com
"Likeable! Very funny!" – Shadows on the Web
Please note that Wolfe only ships to the U.S.
With our Speedy $4.95 Shipping service for U.S. customers it only takes 3-5 business days for your order to be delivered to your door. For our 2-3 day Rush Shipping service please see the rates below. Please note that package tracking is not available for the Speedy Shipping method. Rush Shipping (2-3 business days) is fastest for phoned in credit card orders (Call 1.800.GET.WOLFE). Rush Shipping orders that have been placed on our website need to add one (1) business day to the processing time. Your Rush Shipping order will be delivered within 2-3 business days from date of shipment. Note that if you select Rush Shipping and an item is back-ordered, you will be notified that the order will be delayed. Please note: All orders are DISCREETLY shipped in a plain padded envelope or cardboard box. No rainbow flags or pink triangles—we promise!
WOLFE U.S. SHIPPING RATES
With our Speedy $4.95 Shipping service for U.S. customers it only takes 3-5 business days.
| | | |
| --- | --- | --- |
| Order Subtotal Amount: | Speedy Shipping (3-5 Business Days) | Rush Shipping (2-3 Business Days) |
| Under $100 | $4.95 | $12.95 |
| Over $100 | FREE | $14.95 |
*Shipping charges are per shipment based on availability (and DVD/Blu-ray release dates are subject to change). If you have ordered an item with a future release date, please indicate if you would like us to hold your order to ship all at once, or incur additional shipping charges for multiple partial shipments.
If you have any other shipping questions, please contact our Customer Service department at order@wolfevideo.com or (1.800.GET.WOLFE).
Wolfe 2020 Holiday Hours:
To allow our staff to spend time with their families during the Holidays, the Wolfe Offices and Shipping Department will be closed starting Wednesday, December 23rd at 5:00pm Pacific, though Sunday, January 3rd, 2021.
We will return to normal business hours starting Monday, January 4th, 2021.
PLEASE NOTE:
All orders placed during this time frame will not be processed or shipped until after we return.
Happy Holidays!
Wolfe Video