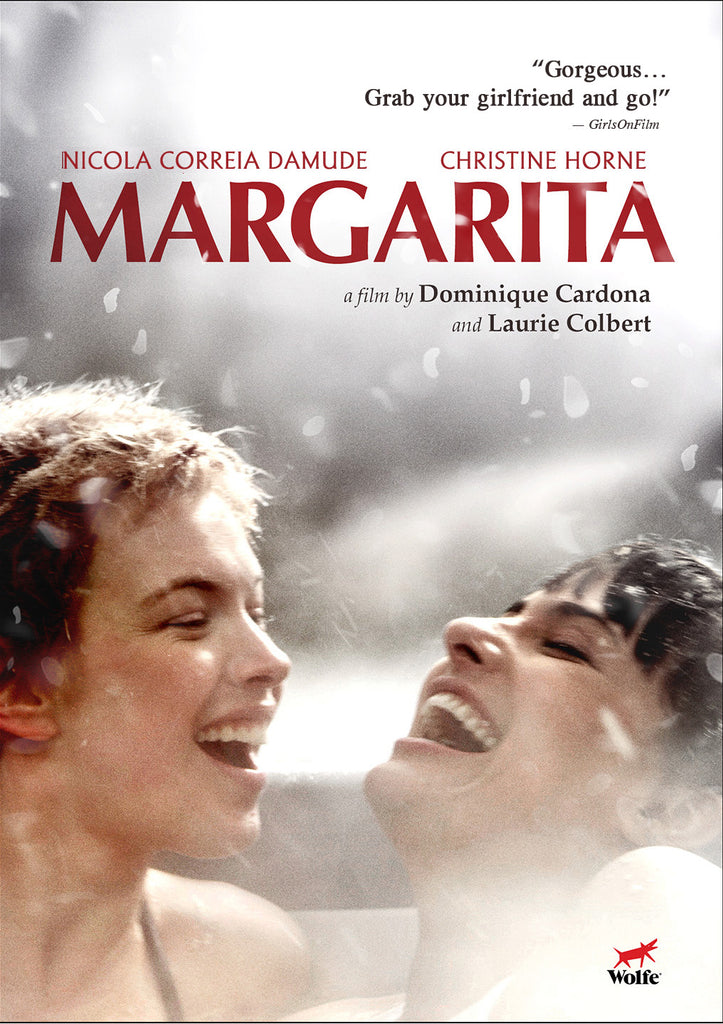 ---
Wolfe Video only ships to the United States.
Available in USA only.
"Gorgeous. Take any opportunity you can to see this film." — Girls On Film
"A queer Mary Poppins for the new generation." — SheWired.com
This wonderful lesbian drama tells the tale of an undocumented Mexican nanny, Margarita (Nicola Correia Damude, Havanna 57) whose girlfriend Jane (Christine Horne, Tru Love) is reluctant to commit and whose yuppie employers — a nice Toronto family, including a bi-curious Mom — are about to let her go.
Margarita is a charming film co-starring a gorgeous pair of actresses (with terrific on-screen chemistry) and is the latest feature from lesbian co-directors Laurie Colbert and Dominique Cardona who brought us the fabulous 2007 drama Finn's Girl. The terrific cast also includes Canadian television star Patrick McKenna, Claire Lautier (Elf, Law and Order) and Finn's Girl star Maya Ritter.
"Nicola Correia Damude is such a commanding presence that I hope to see much more of her in future projects. It's always refreshing to see a confident lesbian character, whose story has nothing to do with coming out or self-doubt." — AfterEllen.com
WINNER!
Audience Award for Best Feature – High Falls Rochester LGBT Film Festival
Audience Award for Best Feature – Toronto Inside Out LGBT Film Fest
Jury Award for Diversity – Barcelona Film Festival
Audience Award for Best Feature – Creteil Int'l Women's Film Festival
Audience Award Best Feature – London Lesbian Film Festival
Best Canadian Feature – London Lesbian Film Festival
"Heartwarming, thought provoking . . . sexy!" – Curve Magazine
"Cast is universally appealing, especially Nicola Correia Damude's Margarita" –
Examiner.com
"Gorgeous… Take any opportunity you can to see this film. Grab your girlfriend (or the one you want to be your girlfriend) and go, she'll be putty in your hands." — GirlsOnFilm
"Charming… a sweet, lighthearted lesbian film." — Queeries.com
"A crowd-pleasing gem." — SoSoGay
"A buoyant comedic drama about love, loyalty and the families we create." — GoldStar.com
"Damude imbues Margarita with a sensitivity that is deeply endearing and the profound signature strength that comes from women of character and perseverance. . . perfectly balanced dramedy." – L.A. Splash
"An unconventional family drama . . .  a sweet and emotionally accessible story" – Criticize This
"Nicola Correia Damude is wonderful as the loving yet stubborn Margarita, a savvy young woman who hides her fears but wears her emotions on her sleeve." – Scene Creek
"The performances, especially by Damude and girlfriend Christine Horne are very good, and there's lots of gratuitous lesbian sex in the hot tub." – NowToronto.com
"A potent cocktail of heart, humour, and humanity." – Sound on Sight
"A beautiful and uplifting film that ends up filling the viewer up with hope . . . Margarita wows through its simplicity and its charm and should leave anyone with a heart smiling at the end." – Next Projection
"What a charmer Margarita is! . . . Plays like an indie relative of Mary Poppins with a LGBT twist or like Canada's answer to The Kids Are All Right . . ." –  Cinemablographer
"Its lesbian romance is tastefully and lovingly portrayed" – Arts Forum California
Please note that Wolfe only ships to the U.S.
With our Speedy $4.95 Shipping service for U.S. customers it only takes 3-5 business days for your order to be delivered to your door. For our 2-3 day Rush Shipping service please see the rates below. Please note that package tracking is not available for the Speedy Shipping method. Rush Shipping (2-3 business days) is fastest for phoned in credit card orders (Call 1.800.GET.WOLFE). Rush Shipping orders that have been placed on our website need to add one (1) business day to the processing time. Your Rush Shipping order will be delivered within 2-3 business days from date of shipment. Note that if you select Rush Shipping and an item is back-ordered, you will be notified that the order will be delayed. Please note: All orders are DISCREETLY shipped in a plain padded envelope or cardboard box. No rainbow flags or pink triangles—we promise!
WOLFE U.S. SHIPPING RATES
With our Speedy $4.95 Shipping service for U.S. customers it only takes 3-5 business days.
| | | |
| --- | --- | --- |
| Order Subtotal Amount: | Speedy Shipping (3-5 Business Days) | Rush Shipping (2-3 Business Days) |
| Under $100 | $4.95 | $12.95 |
| Over $100 | FREE | $14.95 |
*Shipping charges are per shipment based on availability (and DVD/Blu-ray release dates are subject to change). If you have ordered an item with a future release date, please indicate if you would like us to hold your order to ship all at once, or incur additional shipping charges for multiple partial shipments.
If you have any other shipping questions, please contact our Customer Service department at order@wolfevideo.com or (1.800.GET.WOLFE).
Wolfe 2020 Holiday Hours:
To allow our staff to spend time with their families during the Holidays, the Wolfe Offices and Shipping Department will be closed starting Wednesday, December 23rd at 5:00pm Pacific, though Sunday, January 3rd, 2021.
We will return to normal business hours starting Monday, January 4th, 2021.
PLEASE NOTE:
All orders placed during this time frame will not be processed or shipped until after we return.
Happy Holidays!
Wolfe Video