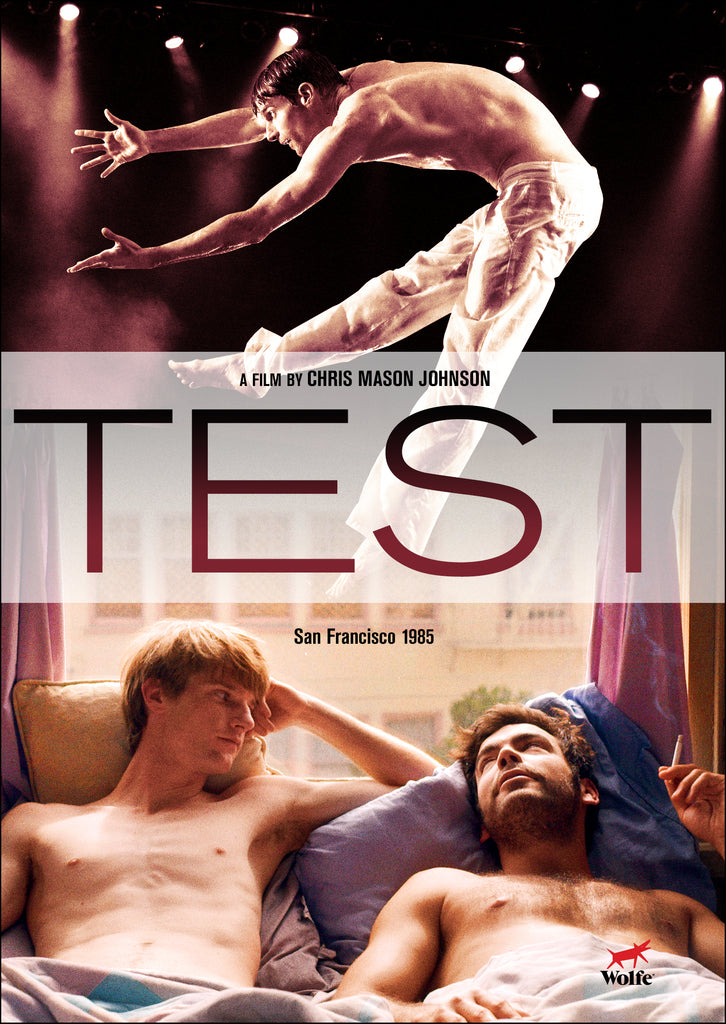 ---
Wolfe Video only ships to the United States.
Grand Jury Award — Best Screenplay and Best U.S. Dramatic Feature, Outfest
Set in the free-spirited San Francisco of 1985, Chris Mason Johnson's Test lovingly portrays this exciting and harrowing era as young Frankie (dancer Scott Marlowe in a breakout acting debut) confronts the challenges of being an understudy in a modern dance company where he's taunted to "dance like a man!" Frankie embarks on a budding relationship with hunky Todd (Matthew Risch, HBO's "Looking"), a veteran dancer in the same company and the bad boy to Frankie's naiveté.
As Frankie and Todd's friendship deepens, they navigate a world of risk — it's the early years of the epidemic — but also a world of hope, humor, visual beauty and musical relief. The captivating dance sequences were especially choreographed for the film by acclaimed U.S. choreographer Sidra Bell. The film's vibrant soundtrack includes work by '80s icons Jimmy Somerville (Bronski Beat), Klaus Nomi, Romeo Void, Laurie Anderson, Martha and the Muffins, Cocteau Twins and Sylvester.
Test is a beautiful new gay drama from writer-director Chris Mason Johnson (The New Twenty).
Kickstarter Video
Original Choreography
Deleted Scene
5.1 optional surround sound
Closed Captions
WINNER! Grand Jury Award — Best Screenplay and Best U.S. Dramatic Feature, Outfest
WINNER! Emerging Filmmaker Award: TAMPA INT'L GAY & LESBIAN FILM FESTIVAL
* NEW YORK TIMES CRITICS PICK!
"Extraordinary… As Frankie, Mr. Marlowe delivers a quiet, moving performance of such subtlety and truthfulness that you almost feel that you are living his life." — The New York Times
"In 2014, a story about AIDS in San Francisco in 1985 is as relevant as ever." — Gawker
"It's a thrill to see an indie this fresh again that speaks so personally to the LGBT audience." — Towleroad
"There's a performance scene at its midway point — Frankie's first opportunity to perform with the company — that stands out as one of the best from any film this year." — NPR
"Touching, funny, and beautiful." — Next Magazine
"Writer-director Chris Mason Johnson has created a visually compelling film about an important subject that until now had pretty much defied cinematic expression." — San Francisco Chronicle
"Director Chris Mason Johnson's sensuous, cinematic film sidesteps queer cinema tropes, telling an earnest story of desire and terror full of gorgeous modern dance numbers and steamy one night stands." — Way Too Indie
"A magnificent period piece." — Examiner.com
"One of the strongest entries in this year's festival…'Test' has already been compared to Bill Sherwood's 1986 film, 'Parting Glances,'…widely regarded as a landmark of gay cinema." – Stephen Holden, THE NEW YORK TIMES
"If there was ever a contemporary film that illuminates why queer cinema still matters, this is it." – Matthew Connolly, FILM COMMENT
"Deeply rewarding…with a delightful feel for period detail." LA WEEKLY
"Excellent, gripping, surprisingly funny and beautifully shot." OUT MAGAZINE
"A breathtaking little film…beautiful and captivating." THE ADVOCATE
"Hugely Entertaining…Test climaxes gloriously in a late-night dance-your-ass-off." BAY AREA REPORTER
"The lithe Marlowe and his staggering cheekbones give a nuanced performance." INDIEWIRE
"Hits many grace notes…An appealing variation on a popular genre…A vibrant period piece with a genuinely likable love story at the center of the action." -Stephen Farber, THE HOLLYWOOD REPORTER
Please note that Wolfe only ships to the U.S.
With our Speedy $4.95 Shipping service for U.S. customers it only takes 3-5 business days for your order to be delivered to your door. For our 2-3 day Rush Shipping service please see the rates below. Please note that package tracking is not available for the Speedy Shipping method. Rush Shipping (2-3 business days) is fastest for phoned in credit card orders (Call 1.800.GET.WOLFE). Rush Shipping orders that have been placed on our website need to add one (1) business day to the processing time. Your Rush Shipping order will be delivered within 2-3 business days from date of shipment. Note that if you select Rush Shipping and an item is back-ordered, you will be notified that the order will be delayed. Please note: All orders are DISCREETLY shipped in a plain padded envelope or cardboard box. No rainbow flags or pink triangles—we promise!
WOLFE U.S. SHIPPING RATES
With our Speedy $4.95 Shipping service for U.S. customers it only takes 3-5 business days.
| | | |
| --- | --- | --- |
| Order Subtotal Amount: | Speedy Shipping (3-5 Business Days) | Rush Shipping (2-3 Business Days) |
| Under $100 | $4.95 | $12.95 |
| Over $100 | FREE | $14.95 |
*Shipping charges are per shipment based on availability (and DVD/Blu-ray release dates are subject to change). If you have ordered an item with a future release date, please indicate if you would like us to hold your order to ship all at once, or incur additional shipping charges for multiple partial shipments.
If you have any other shipping questions, please contact our Customer Service department at order@wolfevideo.com or (1.800.GET.WOLFE).
Wolfe 2020 Holiday Hours:
To allow our staff to spend time with their families during the Holidays, the Wolfe Offices and Shipping Department will be closed starting Wednesday, December 23rd at 5:00pm Pacific, though Sunday, January 3rd, 2021.
We will return to normal business hours starting Monday, January 4th, 2021.
PLEASE NOTE:
All orders placed during this time frame will not be processed or shipped until after we return.
Happy Holidays!
Wolfe Video