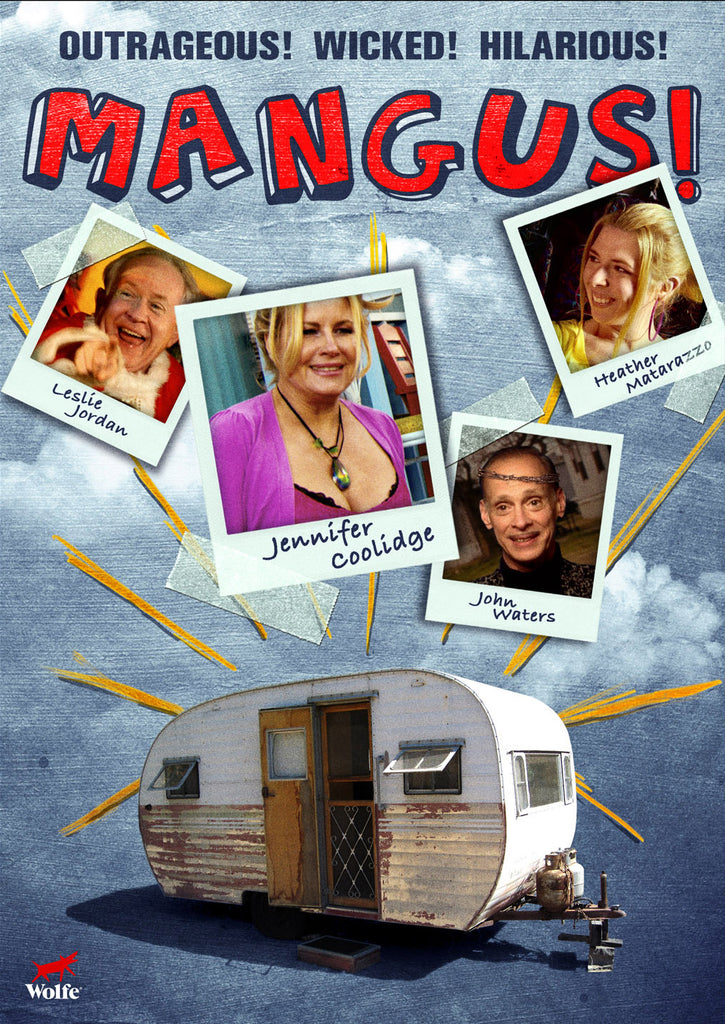 ---
Wolfe Video only ships to the United States.
"A white-trash GLEE." — Movie City News
This super fun, dark comedy from writer-director Ash Christian (Fat Girls), revolves around high school senior Mangus Spedgewick (Ryan Boggus) who hopes to fulfill his family's tradition of playing Jesus in the local annual production of "Jesus Christ Spectacular." This fresh queer cult hit co-stars Jennifer Coolidge as his trailer trash mother and out lesbian actress Heather Matarazzo as his lesbian half-sister; plus terrific cameos from John Waters and Leslie Jordan!
Mangus Spedgewick is handicapped. Make that "handicapable." He lost his legs in a tragic drunk driving accident the night of his high school prom. Now with a father who is going to fight the war in Iraq, and a stepmother who simply can't handle the "upkeep" of the young crippled, Mangus goes to live with his birth mother, Cookie and stepfather (who is only a few years older than him) and his lesbian half sister in a secluded trailer park in the small town of Rivercity, Texas.
While there, he auditions for the role of Jesus in their community theater production of Jesus Christ Spectacular (the cheap offspring of Jesus Christ Superstar)…but the town leaders don't want a crippled Jesus. Mangus decides to take on their discriminatory casting and fights their decision. Will he get to be their towns first crippled Jesus? Not without a hard fight, a road trip and breaking the law a few times along the way.
STARS:
Jennifer Coolidge (American Pie, Legally Blonde, Best in Show), Heather Matarazzo (Welcome to the Dollhouse), cult figures John Waters and Leslie Jordan (The Help, Sordid Lives) plus newcomer Ryan Boggus as Mangus.
Featurette - Behind the Scenes
Closed Captioned
2.0 or 5.1 surround sound
"Funny . . . Mangus! ups the bad-taste stakes further, recalling the outrageous trailer-trash scenarios of seminal '70s works by John Waters." – Variety
"Exudes the quirky sentimentality of a John Waters picture with thevisual edge of early Almodóvar." – Indiewire
"Dark comedy in the tradition of Christian's cinematic idols John Waters and Todd Solondz. . . both hilarious and poignant because its filmmaker is unafraid to hold anything back." – San Francisco Bay Guardian
"One of the funniest films to be submitted to Austin Film Festival this year. This dark comedic, off kilter, trailer trash bonanza will be a comedy cult classic in line with Sordid Lives and Napoleon Dynamite!" – Austin Gay & Lesbian Film Festival
"Great supporting cast that includes Leslie Jordan, Jennifer Coolidge and Heather Matarazzo." – Movie Dearest
"Mangus! represents a kinder, gentler trailer trash comedy, easy-going and funny, it lacks the cynicism of 21st Century shock-comedies. It's almost revolutionary." – DVD Talk
Please note that Wolfe only ships to the U.S.
With our Speedy $4.95 Shipping service for U.S. customers it only takes 3-5 business days for your order to be delivered to your door. For our 2-3 day Rush Shipping service please see the rates below. Please note that package tracking is not available for the Speedy Shipping method. Rush Shipping (2-3 business days) is fastest for phoned in credit card orders (Call 1.800.GET.WOLFE). Rush Shipping orders that have been placed on our website need to add one (1) business day to the processing time. Your Rush Shipping order will be delivered within 2-3 business days from date of shipment. Note that if you select Rush Shipping and an item is back-ordered, you will be notified that the order will be delayed. Please note: All orders are DISCREETLY shipped in a plain padded envelope or cardboard box. No rainbow flags or pink triangles—we promise!
WOLFE U.S. SHIPPING RATES
With our Speedy $4.95 Shipping service for U.S. customers it only takes 3-5 business days.
| | | |
| --- | --- | --- |
| Order Subtotal Amount: | Speedy Shipping (3-5 Business Days) | Rush Shipping (2-3 Business Days) |
| Under $100 | $4.95 | $12.95 |
| Over $100 | FREE | $14.95 |
*Shipping charges are per shipment based on availability (and DVD/Blu-ray release dates are subject to change). If you have ordered an item with a future release date, please indicate if you would like us to hold your order to ship all at once, or incur additional shipping charges for multiple partial shipments.
If you have any other shipping questions, please contact our Customer Service department at order@wolfevideo.com or (1.800.GET.WOLFE).
Wolfe 2020 Holiday Hours:
To allow our staff to spend time with their families during the Holidays, the Wolfe Offices and Shipping Department will be closed starting Wednesday, December 23rd at 5:00pm Pacific, though Sunday, January 3rd, 2021.
We will return to normal business hours starting Monday, January 4th, 2021.
PLEASE NOTE:
All orders placed during this time frame will not be processed or shipped until after we return.
Happy Holidays!
Wolfe Video