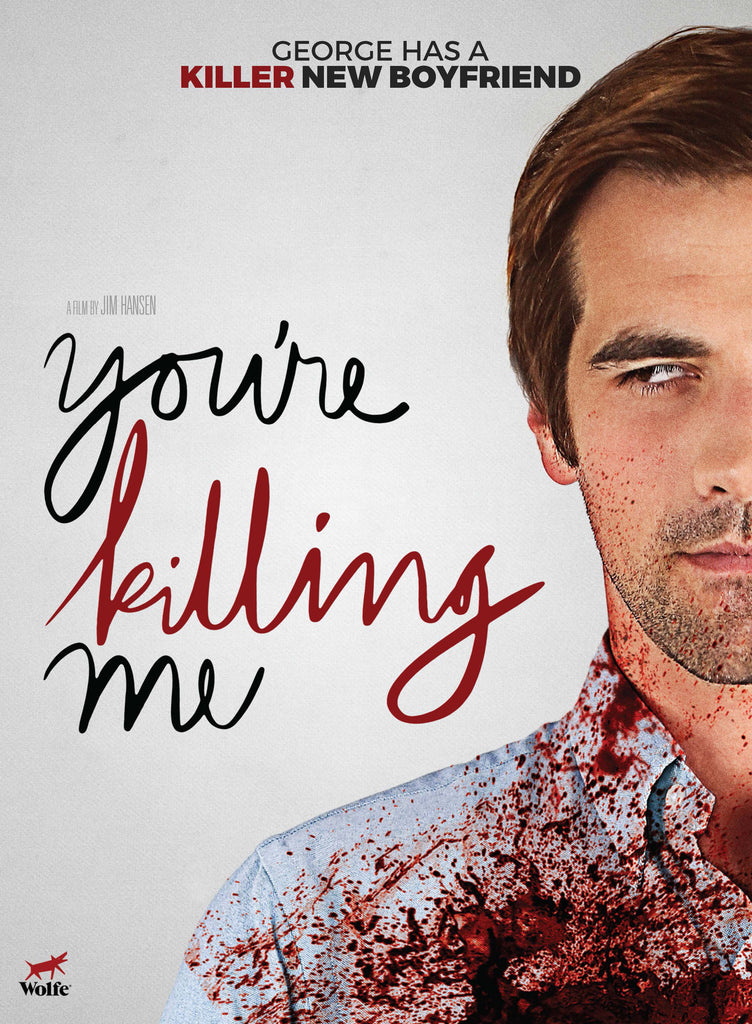 ---
Wolfe Video only ships to the United States.
"The Year's Sexiest Movie." — Queerty.com
An intriguing mix of horror and romantic comedy, You're Killing Me shows what happens when George, a narcissistic wannabe internet star, meets Joe, a monotone serial killer.
When George (Jeffery Self) catches the attention of Joe (Matthew McKelligon) they immediately begin dating. While all of George's friends agree that Joe seems a bit strange, George claims his new beau "isn't scary, he's gorgeous." But as George's friends start to disappear, the remaining group decides to take matters into their own hands.
Directed and co-written by Jim Hansen (creator of The Chloe Videos with Drew Droege), this gay "mumblegore" mixture of "Dexter" and "Gilmore Girls" blends witty banter, pop culture references and good old- fashioned murder. You're Killing Me will have you laughing hysterically as you cover your eyes in fear. Co-starring Drew Droege, Matthew WIlkas and Jack Plotnick.
Bloopers
Improv with Drew and Edie
Trailer
Closed Captions
"One of the funniest films at OutFest this year." – BuzzFeed
"A wickedly funny camp horror-romance."- Toronto Star
"A litany of hilarious gay talent."- FrontiersMedia
"WTF. Another Gay Movie this ain't!"- NewNowNext.com
"The gay slasher film you've always wanted."- TheBackLot.com
"It's infectious and just bloody uproarious!"… "Has some penetrating things to say about how people rarely see anything outside their own land of self. Sometimes it takes a machete to the head to wake a person up to their own flaws and shortcomings."- Edge Media
Please note that Wolfe only ships to the U.S.
With our Speedy $4.95 Shipping service for U.S. customers it only takes 3-5 business days for your order to be delivered to your door. For our 2-3 day Rush Shipping service please see the rates below. Please note that package tracking is not available for the Speedy Shipping method. Rush Shipping (2-3 business days) is fastest for phoned in credit card orders (Call 1.800.GET.WOLFE). Rush Shipping orders that have been placed on our website need to add one (1) business day to the processing time. Your Rush Shipping order will be delivered within 2-3 business days from date of shipment. Note that if you select Rush Shipping and an item is back-ordered, you will be notified that the order will be delayed. Please note: All orders are DISCREETLY shipped in a plain padded envelope or cardboard box. No rainbow flags or pink triangles—we promise!
WOLFE U.S. SHIPPING RATES
With our Speedy $4.95 Shipping service for U.S. customers it only takes 3-5 business days.
| | | |
| --- | --- | --- |
| Order Subtotal Amount: | Speedy Shipping (3-5 Business Days) | Rush Shipping (2-3 Business Days) |
| Under $100 | $4.95 | $12.95 |
| Over $100 | FREE | $14.95 |
*Shipping charges are per shipment based on availability (and DVD/Blu-ray release dates are subject to change). If you have ordered an item with a future release date, please indicate if you would like us to hold your order to ship all at once, or incur additional shipping charges for multiple partial shipments.
If you have any other shipping questions, please contact our Customer Service department at order@wolfevideo.com or (1.800.GET.WOLFE).
Wolfe 2020 Holiday Hours:
To allow our staff to spend time with their families during the Holidays, the Wolfe Offices and Shipping Department will be closed starting Wednesday, December 23rd at 5:00pm Pacific, though Sunday, January 3rd, 2021.
We will return to normal business hours starting Monday, January 4th, 2021.
PLEASE NOTE:
All orders placed during this time frame will not be processed or shipped until after we return.
Happy Holidays!
Wolfe Video