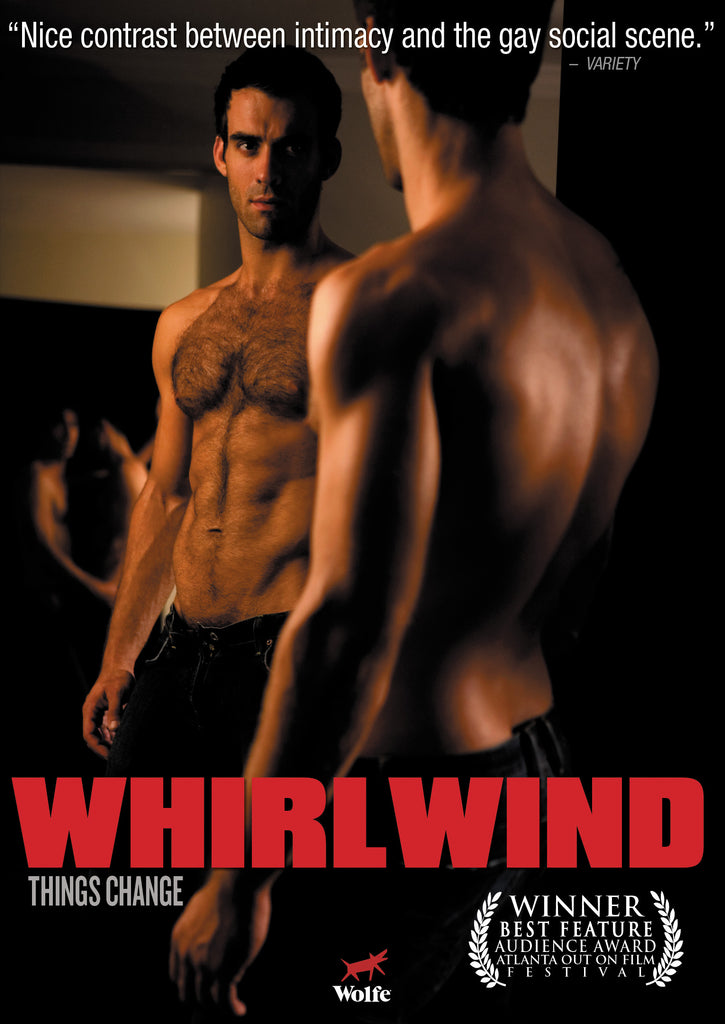 ---
Wolfe Video only ships to the United States.
A smart and sexy story about the complexity of gay relationships — this touching, funny ensemble film explores non-monogamy, commitment, friendship, getting older and more.
Handsome David Rudd stars as Drake, a sexy and charismatic stranger who infiltrates a group of good-looking, successful, thirty-something gay men in New York City. The flirtatious Drake spices up the lives of this tight knit circle of friends, but soon creates unexpected drama. Drake has a bitter past filled with hurt and betrayal. He thinks that all gay men are cheaters and resents anyone who seems happy and committed. He proceeds to manipulate, seduce and tear apart these friends to prove that no one deserves happiness. Will these friends survive Drake's cunning schemes or prove that love and friendship can prevail against all odds?

WHIRLWIND hails from director Richard Le May (200 American) and writer Jason Brown (Tender Places). The film's cast also includes talented stage actors Brad Anderson (A Chorus Line), Desmond Dutcher, Mark Ford (Rent), Alexis Suarez and Bryan West (Hairspray).
Commentary
Scenes from First Table Reading
Slide Show
Trailer
More from Wolfe
Widescreen
Dolby 2.0
"The banter is witty and the sex is hot, securing Whirlwind a sure spot in gay boys' hearts." – Southern Voice
"Whirlwind is a very well crafted and enjoyable film with convincing characters facing real issues and challenges… The acting is uniformly excellent… There is also ample sex and eye candy for the voyeur in all of us. Exceptional cinematography and cutting complete the package." —Michael Klemm, CinemaQueer.com
WINNER Best Feature Audience Award – Atlanta OutOnFilm Festival
WINNER Jury Award: Best Male Feature –Long Island Gay Film Fest
Official Selection OutFest
Official Selection NewFest
Official Selection Melbourne Queer Film Festival
Please note that Wolfe only ships to the U.S.
With our Speedy $4.95 Shipping service for U.S. customers it only takes 3-5 business days for your order to be delivered to your door. For our 2-3 day Rush Shipping service please see the rates below. Please note that package tracking is not available for the Speedy Shipping method. Rush Shipping (2-3 business days) is fastest for phoned in credit card orders (Call 1.800.GET.WOLFE). Rush Shipping orders that have been placed on our website need to add one (1) business day to the processing time. Your Rush Shipping order will be delivered within 2-3 business days from date of shipment. Note that if you select Rush Shipping and an item is back-ordered, you will be notified that the order will be delayed. Please note: All orders are DISCREETLY shipped in a plain padded envelope or cardboard box. No rainbow flags or pink triangles—we promise!
WOLFE U.S. SHIPPING RATES
With our Speedy $4.95 Shipping service for U.S. customers it only takes 3-5 business days.
| | | |
| --- | --- | --- |
| Order Subtotal Amount: | Speedy Shipping (3-5 Business Days) | Rush Shipping (2-3 Business Days) |
| Under $100 | $4.95 | $12.95 |
| Over $100 | FREE | $14.95 |
*Shipping charges are per shipment based on availability (and DVD/Blu-ray release dates are subject to change). If you have ordered an item with a future release date, please indicate if you would like us to hold your order to ship all at once, or incur additional shipping charges for multiple partial shipments.
If you have any other shipping questions, please contact our Customer Service department at order@wolfevideo.com or (1.800.GET.WOLFE).
Wolfe 2020 Holiday Hours:
To allow our staff to spend time with their families during the Holidays, the Wolfe Offices and Shipping Department will be closed starting Wednesday, December 23rd at 5:00pm Pacific, though Sunday, January 3rd, 2021.
We will return to normal business hours starting Monday, January 4th, 2021.
PLEASE NOTE:
All orders placed during this time frame will not be processed or shipped until after we return.
Happy Holidays!
Wolfe Video