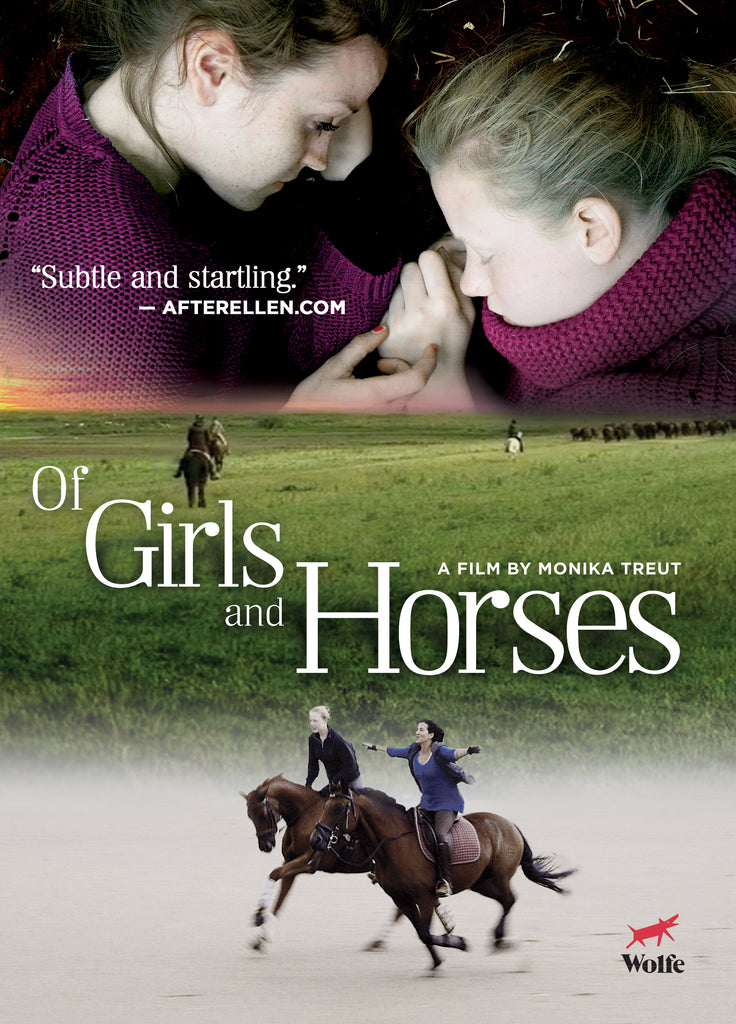 ---
Wolfe Video only ships to the United States.
"Subtle and startling." — AfterEllen.com
Featuring a quartet of talented stars, this under-stated drama from prolific lesbian filmmaker Monika Treut deftly unfolds the coming-of-age of rebellious teen Alex (popular German TV star, Ceci Chuh). Sent away by her mother to a horse farm in the country, Alex keeps up her bad girl ways but is gradually enamored with the horses — and with the resident lesbian riding instructor, Nina (the stunning Vanida Karun) who is taking a break from her partner Christine (the equally beautiful Ellen Grell). As Nina maintains her boundaries and tries to help Alex find purpose and maturity at this crucial moment in her life, the arrival of privileged young equestrian Kathy (Alissa Wilms) presents new challenges and opportunities for Alex as she grapples with her longing for love and connection. A beautiful drama.
"The film's gentle message – that there are ways of living that aren't the social norm, whether this is living remotely from the city, or in terms of alternative sexuality." — Take One
"Compelling and engaging." — Planet London
Special Jury Mention!
Director Monika Treut, Actors Ceci Schmitz-Chuh and Alissa Wilms — Image + Nation Film Festival
Please note that Wolfe only ships to the U.S.
With our Speedy $4.95 Shipping service for U.S. customers it only takes 3-5 business days for your order to be delivered to your door. For our 2-3 day Rush Shipping service please see the rates below. Please note that package tracking is not available for the Speedy Shipping method. Rush Shipping (2-3 business days) is fastest for phoned in credit card orders (Call 1.800.GET.WOLFE). Rush Shipping orders that have been placed on our website need to add one (1) business day to the processing time. Your Rush Shipping order will be delivered within 2-3 business days from date of shipment. Note that if you select Rush Shipping and an item is back-ordered, you will be notified that the order will be delayed. Please note: All orders are DISCREETLY shipped in a plain padded envelope or cardboard box. No rainbow flags or pink triangles—we promise!
WOLFE U.S. SHIPPING RATES
With our Speedy $4.95 Shipping service for U.S. customers it only takes 3-5 business days.
| | | |
| --- | --- | --- |
| Order Subtotal Amount: | Speedy Shipping (3-5 Business Days) | Rush Shipping (2-3 Business Days) |
| Under $100 | $4.95 | $12.95 |
| Over $100 | FREE | $14.95 |
*Shipping charges are per shipment based on availability (and DVD/Blu-ray release dates are subject to change). If you have ordered an item with a future release date, please indicate if you would like us to hold your order to ship all at once, or incur additional shipping charges for multiple partial shipments.
If you have any other shipping questions, please contact our Customer Service department at order@wolfevideo.com or (1.800.GET.WOLFE).
Wolfe 2020 Holiday Hours:
To allow our staff to spend time with their families during the Holidays, the Wolfe Offices and Shipping Department will be closed starting Wednesday, December 23rd at 5:00pm Pacific, though Sunday, January 3rd, 2021.
We will return to normal business hours starting Monday, January 4th, 2021.
PLEASE NOTE:
All orders placed during this time frame will not be processed or shipped until after we return.
Happy Holidays!
Wolfe Video