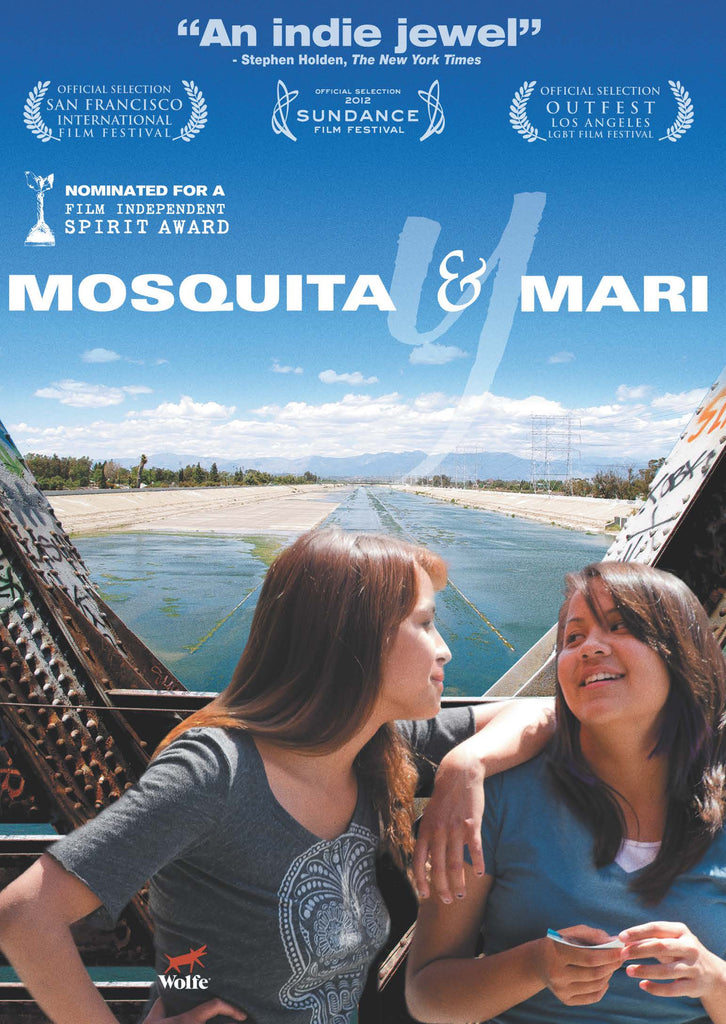 ---
Wolfe Video only ships to the United States.
Official Selection: 2012 Sundance Film Festival
This exquisitely crafted coming of age tale follows a pair of Latina teens who fall gradually in love against the backdrop of Southeast Los Angeles.
When straight A student Yolanda — aka Mosquita (Fenessa Pineda) decides to help struggling tough girl Mari (Venecia Troncoso) with her homework an intense attraction evolves between the two. As their friendship grows, a yearning to explore their strange yet beautiful connection surfaces. Lost in their private world of unspoken affection, lingering gazes, and heart-felt confessions of uncertain futures, Yolanda's grades begin to slip while Mari's focus drifts away from her duties at a new job. Mounting pressures at home collide with their new-found desires thus driving Yolanda and Mari's relationship to the edge, forcing them to choose between their obligations to others and staying true to each other.
A genuinely unique and tender story about young love, Mosquita & Mari heralds the arrival of an exceptionally talented young filmmaker, Aurora Guerrero.
Behind the Scenes Featurette
Trailer
In English with optional closed captions
Optional 5/1 surround sound
Official Selection: 2012 Sundance Film Festival
Nominee: Independent Spirit Awards — John Cassavetes Award
Nominee: GLAAD Media Awards — Outstanding Film In Limited Release
"An indie jewel!" – Stephen Holden, The New York Times
CRITICS PICK! "Admirably understated and very well acted. . . packs a cumulative emotional punch." – NY Movie
"A robust work of self-discovery for two girls at the most awkward and confusing years of their young lives, and a testament to Aurora Guerrero's storytelling prowess." – Hollywood Reporter
 "Beautifully captures the fluctuating dynamics of friendship between 15-year-old girls." – Variety
 THREE STARS! "Guerrero's attitude toward the teenagers — understanding and affectionate . . . is  what holds your interest." – New York Post
 "Incredible . . . crafted to perfection . . .As real and honest a film as we've seen in recent years, with a script that invites you completely inside the movie's world, and young stars who fill their roles with equal weight and youthful exuberance." – After Ellen
THREE STARS! "Mosquita y Mari brings us unspeakably close to its main characters, two Chicana sophomores in Huntington Park, Los Angeles, whose budding relationship is portrayed with an innocence and naturalism that makes the film unusually believable." – Slant Magazine
"Features the year's best Spanish language soundtrack." – Time Out New York
"Shot with fly-on- the wall realism and boosted by natural performances, this is the sort of gem you might not hear much about, but you'll be glad to have discovered." – New York Daily News
"Leave(s) behind a lovely melancholy impression." – Screen Daily
"An honest, funny, charming, emotionally raw account of first love that anyone can relate to." – The Script Lab
Please note that Wolfe only ships to the U.S.
With our Speedy $4.95 Shipping service for U.S. customers it only takes 3-5 business days for your order to be delivered to your door. For our 2-3 day Rush Shipping service please see the rates below. Please note that package tracking is not available for the Speedy Shipping method. Rush Shipping (2-3 business days) is fastest for phoned in credit card orders (Call 1.800.GET.WOLFE). Rush Shipping orders that have been placed on our website need to add one (1) business day to the processing time. Your Rush Shipping order will be delivered within 2-3 business days from date of shipment. Note that if you select Rush Shipping and an item is back-ordered, you will be notified that the order will be delayed. Please note: All orders are DISCREETLY shipped in a plain padded envelope or cardboard box. No rainbow flags or pink triangles—we promise!
WOLFE U.S. SHIPPING RATES
With our Speedy $4.95 Shipping service for U.S. customers it only takes 3-5 business days.
| | | |
| --- | --- | --- |
| Order Subtotal Amount: | Speedy Shipping (3-5 Business Days) | Rush Shipping (2-3 Business Days) |
| Under $100 | $4.95 | $12.95 |
| Over $100 | FREE | $14.95 |
*Shipping charges are per shipment based on availability (and DVD/Blu-ray release dates are subject to change). If you have ordered an item with a future release date, please indicate if you would like us to hold your order to ship all at once, or incur additional shipping charges for multiple partial shipments.
If you have any other shipping questions, please contact our Customer Service department at order@wolfevideo.com or (1.800.GET.WOLFE).
Wolfe 2020 Holiday Hours:
To allow our staff to spend time with their families during the Holidays, the Wolfe Offices and Shipping Department will be closed starting Wednesday, December 23rd at 5:00pm Pacific, though Sunday, January 3rd, 2021.
We will return to normal business hours starting Monday, January 4th, 2021.
PLEASE NOTE:
All orders placed during this time frame will not be processed or shipped until after we return.
Happy Holidays!
Wolfe Video