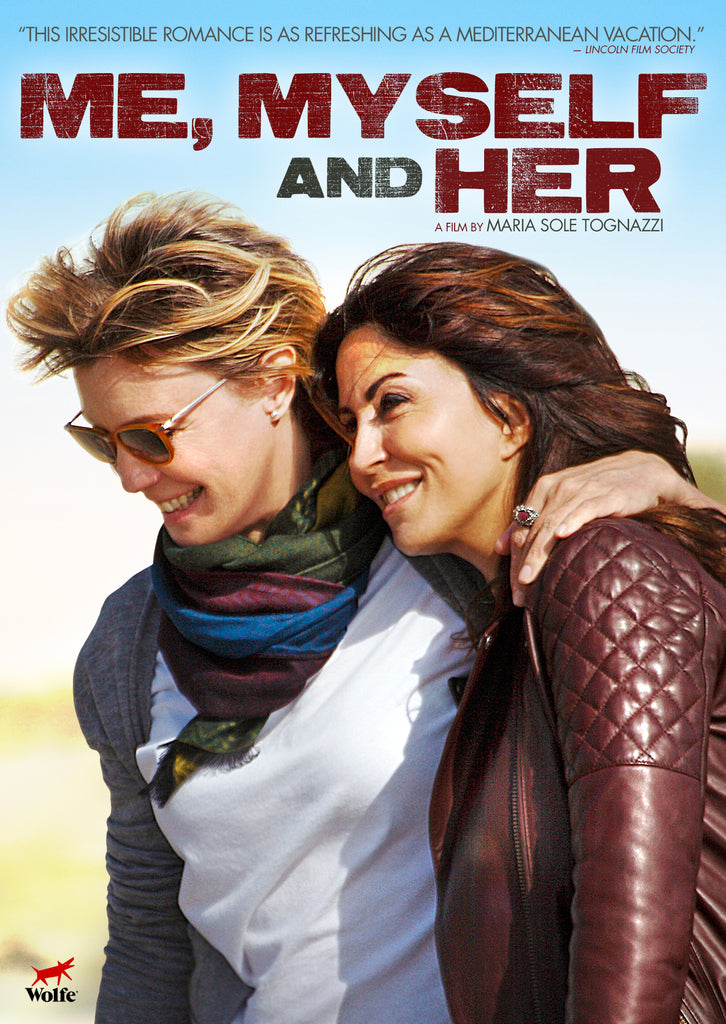 ---
Wolfe Video only ships to the United States.
Marina and Federica have been together for five years. They live in a gorgeous apartment in Rome, they share the same bed, they use the same face cream, they make love, they fight.
Marina has it all: she's beautiful, sexy and funny. Once a popular and  loved actress, today she successfully runs a healthy food restaurant. She's an independent, self-confident and curious woman, who knows what she wants and has no doubts about her sexuality. She likes women and she loves Federica.
Federica is a busy respected architect with a marriage behind her and a grown up son in his twenties. Marina is the first and only woman of her life. Federica is overly discreet and very different from Marina.
When Federica runs into an old flame, she starts to question her life. Will she and Marina stay together?
Italian with English subtitles
"Must-See."– AfterEllen.com
"With a light tone, this warm look at the everyday struggles of two people to build a life together strikes a universal chord." – The Brattle Theater
"Striking a mature balance between comedy and drama, Tognazzi finds the universal chord in her characters' romantic struggles and delicately unfolds an affectionate story of love and compassion, graciously observing tempestuous hearts searching for their true home."– Frameline
"The acting is uniformly excellent. With an assured blend of comedy and drama, it's one of the best date films of the festival."– SF Gate.com
"Blending light-as-a-soufflé comedy, postcard-perfect views of Italy, and witty observations on the challenges that all couples face, this irresistible romance is as refreshing as a Mediterranean vacation." – Lincoln Film Society
Please note that Wolfe only ships to the U.S.
With our Speedy $4.95 Shipping service for U.S. customers it only takes 3-5 business days for your order to be delivered to your door. For our 2-3 day Rush Shipping service please see the rates below. Please note that package tracking is not available for the Speedy Shipping method. Rush Shipping (2-3 business days) is fastest for phoned in credit card orders (Call 1.800.GET.WOLFE). Rush Shipping orders that have been placed on our website need to add one (1) business day to the processing time. Your Rush Shipping order will be delivered within 2-3 business days from date of shipment. Note that if you select Rush Shipping and an item is back-ordered, you will be notified that the order will be delayed. Please note: All orders are DISCREETLY shipped in a plain padded envelope or cardboard box. No rainbow flags or pink triangles—we promise!
WOLFE U.S. SHIPPING RATES
With our Speedy $4.95 Shipping service for U.S. customers it only takes 3-5 business days.
| | | |
| --- | --- | --- |
| Order Subtotal Amount: | Speedy Shipping (3-5 Business Days) | Rush Shipping (2-3 Business Days) |
| Under $100 | $4.95 | $12.95 |
| Over $100 | FREE | $14.95 |
*Shipping charges are per shipment based on availability (and DVD/Blu-ray release dates are subject to change). If you have ordered an item with a future release date, please indicate if you would like us to hold your order to ship all at once, or incur additional shipping charges for multiple partial shipments.
If you have any other shipping questions, please contact our Customer Service department at order@wolfevideo.com or (1.800.GET.WOLFE).
Wolfe 2020 Holiday Hours:
To allow our staff to spend time with their families during the Holidays, the Wolfe Offices and Shipping Department will be closed starting Wednesday, December 23rd at 5:00pm Pacific, though Sunday, January 3rd, 2021.
We will return to normal business hours starting Monday, January 4th, 2021.
PLEASE NOTE:
All orders placed during this time frame will not be processed or shipped until after we return.
Happy Holidays!
Wolfe Video